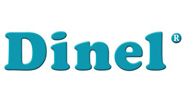 The firm Dinel, s.r.o. was founded in 1995, after transformation from the small private firm, which produced capacitive sensors since 1991. Nowadays Dinel, s.r.o. is one of the most influential produc- ers of level and flow measurement systems in the Czech Republic with big annual increases of sales and strong innovative potential. Our level meters, limit level sensors and flowmeters fulfill various requirements in wide range of branches, e.g. water and waste wa- ter processing, agricultural technology and food industry, plastic materials technology, chemical industry, petroleum and gas filling stations, in heating and cooling technology, building materials pro- cessing technology, packaging technology, in transport vehicles, etc. Besides that our power supplies, display and control units are very frequently used in various control and measuring systems.
Thanks the flexible production and organization of logistics we are well able to modify a concrete piece to meet your require- ments while keeping good delivery terms and prices. We will- ingly help you with choice of the best measuring method and equipment. All of our products meet requirements of European directives and norms. We keep 3 years warranty on all range of our products.
In the present moment, the limited representator of Dinel company, Vista Mehr Negar company, is present in Iran.