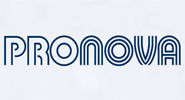 PRONOVA is a specialist for analytical technology involving gas analysis, water analysis, and agricultural measurements. You will benefit from our many years of experience developing solutions for measurement tasks involving sensors, portable or stationary equipment and even complete analysis systems. Our focal points are:
Gas analysis equipment – analysis systems for monitoring emissions (German Emission Control Act) or ATEX versions for Ex zone 1 or 2.
Biogas analysis hardware – the SSM 6000 and FOS/TAC 2000 biogas analysers
Water analysis hardware – ion-selective electrodes for NO3, NH4, K, F, Cl, Cu, Na, O2, CO2 and conductivity
Agricultural measurement equipment – for pH and activity measurements taken directly in soil; a consulting kit with soil sampling auger for monitoring plant nourishment.
In the present moment, the limited representator of PRONOVA company, Vista Mehr Negar company, is present in Iran.